Andy Silverman
•
May 28, 2021 9:00:00 AM
The ContractWorks E-Signature Process Just Got Easier
---
Our goal at ContractWorks is to make the process of managing contracts as simple as we can. The people who use our software are busy professionals, and any time saved on routine tasks generates more time for higher value initiatives.
What does that mean for the team at ContractWorks? That means we take customer feedback to heart, and explore every opportunity to improve the user experience.
That's why we're pleased to share that we have just revamped the way you send out contracts for signature to provide a more simple, streamlined workflow. Read more on the latest ContractWorks CLM software feature enhancement below.
How is the new process different?
The process of setting up and sending out documents - or packets - for signature in ContractWorks contract management software is now broken out into four easy steps:
Select the document

Add signers

Add signer fields to the document

Customize the messaging details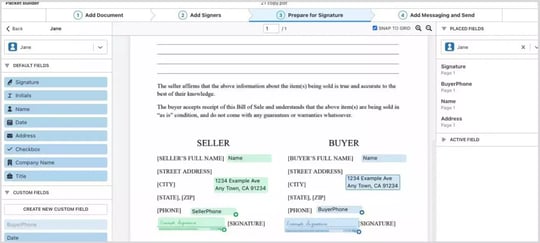 All of these actions should feel familiar to anyone who has used the ContractWorks built-in e-signature feature in the past, but the new process should be faster and more intuitive.
Why is this new version better for you?
The revamped electronic signature process makes it even easier to send out packets for signature, saving valuable time along the way. Here are a few of the reasons the updated process is better for ContractWorks customers:
A more efficient workflow
As mentioned previously, this feature enhancement is designed to help you accomplish your work in less time. By breaking out the process into four simple steps, we've made an already streamlined workflow even more efficient.
All of your custom signature fields in one view
You can now see all custom signature fields in one view, meaning you simply select the desired field from the list and drag it onto your document. You can also see all of the fields that have already been added to the document in a convenient list view.
Greater control over the selection and placement of signature fields
In addition to having greater control over the process of adding signature fields to your document, it's also easier to edit fields once they have been added. You can quickly set any field on the document to either optional or required, or reassign to a different signer.
To learn more about ContractWorks with built-in electronic signature, schedule a demo today.
Up Next
Four Tips for Writing Contract Amendments
Read article