Andy Silverman
•
Apr 14, 2022 10:14:00 AM
New Ebook: 2022 In-house Legal Tech Report
---
The relationship between in-house legal teams and technology is changing. While corporate legal departments are still trying to shake the reputation of being slow to modernize, adapt, and adopt new technology, a recent study commissioned by ContractWorks paints a very different picture of today's modern legal professionals.
This major new study, carried out by international research agency Censuswide, reveals key trends from in-house legal professionals from the United States and the United Kingdom. General counsel, in-house lawyers, and other members of the legal department share insight on the lasting impacts of the Covid-19 Pandemic on the legal workforce and their personal experiences and preferences about work style, legal technologies, and their employers.
Research shows that legal tech adoption is on the rise, and that when in-house lawyers adopt the right solutions, the results can be transformative for both the business and the individual.
Legal tech is empowering in-house teams to streamline processes and workflows, work more efficiently, and become more productive in their roles, which is ultimately leading to higher levels of job satisfaction.
Solving challenges with technology, however, isn't always a straightforward process. The study shows that implementing and adopting new technology remains an obstacle for some legal professionals, and widely failed tech implementation projects can have repercussions that go beyond simply not being able to automate manual work.
The good news is that by working with your team to plan out the tech adoption process from evaluation to implementation, you'll significantly improve the chances of recognizing value from new tech quickly.
The 2022 In-house Legal Tech Report uses data from this study to expand on:
The Pandemic's impact on the in-house legal community
Recent trends in legal tech adoption and usage by corporate legal teams
The positive impacts of legal technology — and the fallout when tech adoption projects fall short
The keys to ensuring a happy and productive legal team
How to get legal tech right and recognize value as quickly as possible
Survey Demographics
ContractWorks surveyed 350 in-house professionals, including 250 from the United States and 100 from the United Kingdom. The majority of respondents were general counsel, heads of legal, and legal directors, but in-house lawyers, corporate paralegals, and legal operations professionals also participated.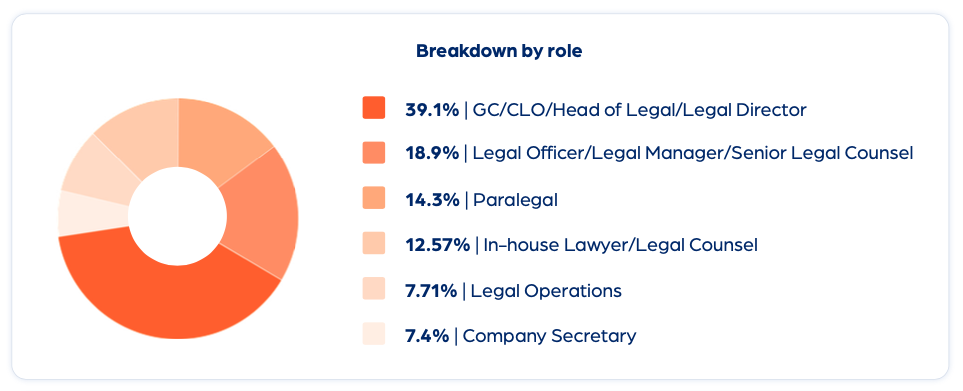 Research Highlights
Not surprisingly, this study showed that about half of the legal professionals surveyed worked from home at least part of the time during the height of the pandemic. But the ramifications of that sudden shift to remote work are noteworthy.
Accelerated Legal Tech Adoption
For in-house lawyers tasked with establishing the infrastructure for remote work, streamlining internal processes quickly became a top priority. According to all 350 participants in the ContractWorks study, this immediate need fast-tracked the adoption of legal technology, with more than half (57%) stating that their team's legal tech adoption was accelerated by at least three years.

Tech Adopted During the Pandemic
The shift to remote work forced teams to make fast, strategic choices about which legal tech solutions were the most valuable, had the most flexibility, and offered the highest return on investment (ROI) — wherever their people were working. Contract management, matter management, electronic signature, and e-billing were all areas tackled by in-house teams with technology during the pandemic: for each area, at least a third of respondents indicated their teams had adopted new solutions.

How New Technology Has Helped
Adopting technology helps in-house lawyers and legal professionals automate and streamline manual tasks so they have more time to focus on high-value work. But this new research proves that the benefits of adopting legal tech extend far beyond helping teams operate more efficiently.
Looking specifically at contract lifecycle management software (the most heavily adopted legal tech during the Pandemic), nearly half of legal professionals who adopted it (46%) reported that it made their day-to-day job more enjoyable, 38% said it improved their work-life balance, and 38% also noted that it resulted in fewer mistakes.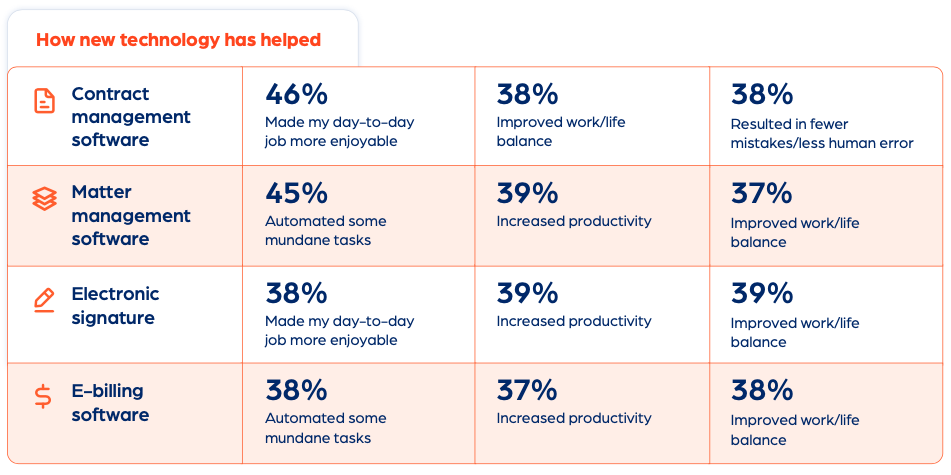 Why Some Tech Adoption Projects Fall Short
For those whose tech adoption projects didn't produce satisfactory results, there are a few key factors getting in the way of success: lengthy implementation processes, overly complicated software, technology unfit for purpose, and resistance to change.
To read more about recent trends in legal tech adoption and see a detailed breakdown of the survey results, download the 2022 In-house Legal Tech Report: How the Pandemic helped shape a Legal Tech revolution.
Up Next
See ContractWorks & the Onit Family at CLOC 2022
Read article