Andy Silverman
•
Jun 10, 2022 10:37:54 AM
The Impact of New Technology on In-house Legal Teams
---
Recent ContractWorks research shows that legal tech adoption skyrocketed among corporate legal teams over the last two years, driven by the shift to remote work. And even though nearly half (48%) of in-house legal professionals reported that they are back in the office full-time, the overwhelmingly positive outcomes teams experienced after strategically adopting key solutions has generated significant momentum for the legal tech movement.
This blog explores the impact of new technology on in-house legal teams, including some unexpected benefits.
Improved productivity, collaboration, and responsiveness
When legal teams successfully adopt tech solutions designed to address their specific challenges, and they involve the right people along the way, the result is typically a happier, more productive department.
For many in-house legal professionals, technology has the potential not only to improve productivity, but to build the legal team's reputation as innovative collaborators — all while empowering remote and hybrid teams to work together more effectively.
Adopting technology helps in-house lawyers and legal professionals automate and streamline manual tasks so they have more time to focus on high-value work. New technology also makes it easier for Legal to collaborate with other departments throughout the organization, and improves access and visibility into critical documents, matters, and more. In turn, Legal becomes a better business partner by reducing turnaround times and increasing responsiveness.
But this new research proves that the benefits of adopting legal tech extend far beyond the aforementioned efficiencies.
Unexpected benefits of new legal technology
Most legal teams shopping for new legal tech are likely looking to reduce operating costs, mitigate risk, and save time on tedious tasks. But now we're learning that the right software solutions can actually lead to happier employees.
The in-house legal professionals surveyed said that successful adoption of legal technology creates happier, more productive employees who can move the business forward at a rate that is not possible without technology. With the current push for organizations to retain top talent, investing in solutions that create more satisfied employees - and also help the business operate more efficiently - should be a top priority.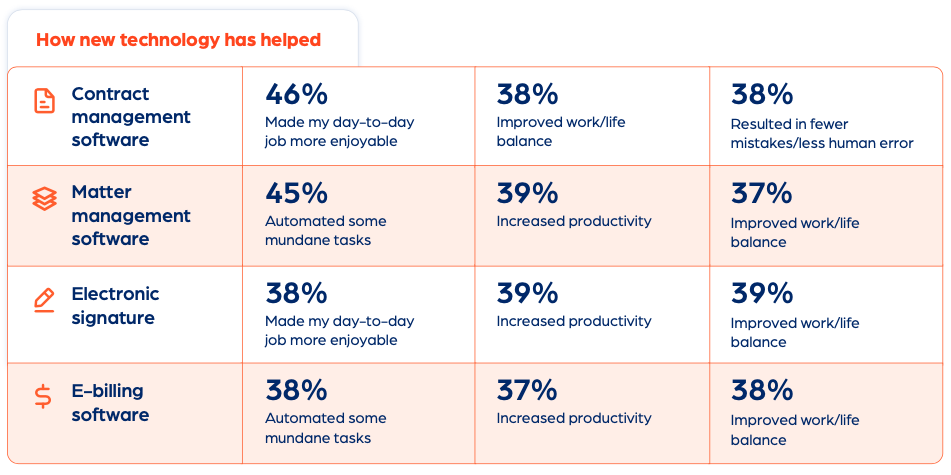 The chart above shows how the most popular legal tech solutions over the last two years impacted in-house lawyers. Automating mundane tasks and increasing productivity are important reasons to adopt software, but what's more noteworthy is the percentage of people who reported that solutions like contract management software, matter management software, electronic signature software, and e-billing software actually improved their work-life balance and made their day-to-day jobs more enjoyable.
For those in-house lawyers who adopted contract lifecycle management software during the Pandemic (the most heavily adopted legal tech over the last two-plus years), nearly half (46%) reported that it made their day-to-day job more enjoyable, 38% said it improved their work-life balance, and 38% noted that it resulted in fewer mistakes. These benefits have a major impact on job satisfaction and engagement, which can boost productivity, improve confidence and happiness, and generate higher employee retention rates.
Ensuring a successful legal tech adoption
When a tech adoption project doesn't go as planned, it is often due to a few common problems: lengthy implementation processes, overly complicated software, technology unfit for purpose, and resistance to change.
Dealing with lengthy implementation processes and overly complex software is such a critical issue because it prevents teams from actually using the solution they just invested time and financial resources to acquire — which can lead to frustration among those involved. This highlights the importance of putting in the time during the research and evaluation stages to choose the right solution and avoid the issues that can derail tech adoption projects.
The good news is that vendors are listening, and a new trend in the legal tech space is emerging. More vendors are developing user-friendly, quick-to-implement, and purpose-built solutions that enhance operational efficiency, making legal tech adoption blunders less frequent. While there are a lot of solutions on the market, research proves that once you find the technology you need, the results are overwhelmingly positive for both the individuals on your team and the greater organization.
Here are a few things you can do to achieve your tech adoption goals and improve employee satisfaction:
Involve your users and stakeholders in the conversation. Understanding the needs of the people using the systems should always be a priority and is critical to maintaining a satisfied legal staff.

Make sure the solutions you're considering are the right ones to solve your key problems. Product fit should never be overlooked, so if you think there's a solution that more closely aligns with your key challenges, you're probably right.

Work together with your team to define what successful implementation and adoption look like. Communicate openly and set expectations around change management, so team members are aligned throughout the implementation process.

Rather than focusing on lists of features, have in-depth conversations with vendors, schedule demos, and try the product before making a final decision whenever possible. Every vendor says their product is easy to use, but the best test is to try the software yourself.
When all of these things are considered, and appropriately executed, legal teams will realize the full benefits of adopting legal technology. Some of those benefits are game-changers for in-house lawyers, including the ability to spend more time on high-value work and maintain a better work-life balance. And for legal professionals looking for greater flexibility and control over the way they work, time-saving legal technology is the most straightforward way to accomplish that vision.
To read more about the impact of new technology on corporate legal teams, download the 2022 In-house Legal Tech Report.
Up Next
ContractWorks Case Study: Cedar Band Corporation
Read article