Andy Silverman
•
May 28, 2020 10:43:16 AM
Latest Review Site Data Shows ContractWorks Leading the Way
---
The ContractWorks team works tirelessly to support our customers by providing solutions that simplify the contract management process and allow legal departments to make informed business decisions based on the data found within their agreements. By designing a product that is intuitive, affordable, and backed by unparalleled customer support, ContractWorks makes it easy for teams to take control of their contract portfolios from almost anywhere.
That's why we're proud to announce that ContractWorks has recently been named a top contract lifecycle management solution by some of the most respected and trusted software review sites, thanks to the feedback from customers who rely on our software to efficiently and effectively manage their contracts.
Below are some of the software review sites and reports that have recently recognized ContractWorks as a leading contract management software solution.
Gartner Digital Markets
Gartner Digital Markets is made up of the three leading B2B software search sites, Software Advice, Capterra, and GetApp. Gartner's Competitive Comparison reports show how a particular solution is rated against its competitors across a variety of categories, including functionality, ease of use, value for the money, customer support, and overall. Based on end-user reviews in the Gartner reports published April 1, 2020, ContractWorks has been rated the best overall Contract Management product.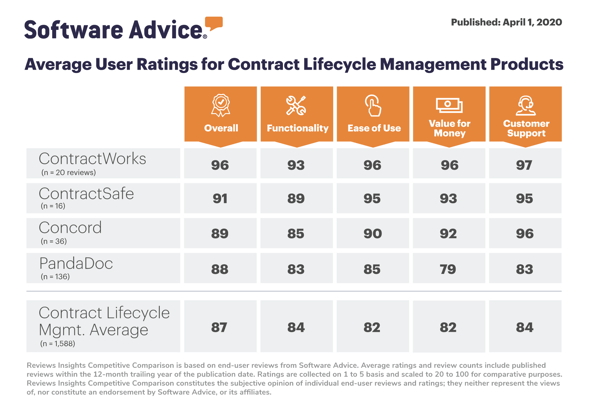 Capterra
Capterra's Top 20 report ranks the most popular contract management software based on verified user ratings, and ContractWorks earned a spot near the top of the leaderboard with a Reviews score of 49/50. The report highlights the top 20 vendors out of over 200 total contract management software providers featured on Capterra.
G2
G2 publishes quarterly reports showcasing the top software solutions across a myriad of categories, including contract management. ContractWorks was once again featured at or near the top of every category, including Easiest to Use, Best Support, and Easiest to Do Business With. ContractWorks also achieved one of the top G2 Satisfaction Scores, which is calculated using a proprietary algorithm that factors in real-user satisfaction ratings from review data.

"We are honored to be featured as a top contract management software solution across such highly regarded review sites, and are thrilled to see that our hard work and efforts to provide value to customers are resonating with our users. We have built a reputation on creating usable, intuitive contract management software, and providing excellent customer training and support, so it's rewarding to see that sentiment reflected in customer reviews. Thank you to all of our customers who have taken the time to leave feedback and share your experiences."

- ContractWorks CEO Will Reynolds
Ready to see for yourself why users are so satisfied with ContractWorks contract management software? Click here to schedule a demo and find out how simple and straightforward contract management can be when you have the right solution.
The Capterra Top 20 report constitutes the subjective opinions of individual end-user reviews, ratings, and data applied against a documented methodology; they neither represent the views of, nor constitute an endorsement by, Capterra or its affiliates.
Up Next
5 Contract Management KPIs to Minimize Organizational Risk
Read article