Tara Naughter
•
May 15, 2019 10:52:45 AM
ContractWorks' New Artificial Intelligence Feature: Auto-Tagging
---
After months of hard work, conceptualizing, designing, and testing, we're excited to announce our new artificial intelligence feature - AI Auto-Tagging! Upload your documents and let ContractWorks CLM software do the tagging for you. Enjoy more control and productivity with a tagged contract repository ready for searching and reporting.
Read on to learn how AI Auto-Tagging can make managing your contracts easier.
Fast, Easy Implementation
AI Auto-Tagging is designed to expedite and simplify the process of tagging documents, which greatly speeds up contract management software implementation time, especially for companies making the switch from manual contract management to ContractWorks.
Before AI Auto-Tagging:
In the past, organizations implementing contract management software faced the task of uploading thousands of contracts into the system and then manually tagging those documents. This process could take weeks or even months to complete, often leading to delayed or failed implementation.
With AI Auto-Tagging:
There's a better way! Using our AI Auto-Tagging, a large volume of contracts can be dropped into the system, and then automatically tagged by agreement type, parties, effective date, termination date, initial term, renewal term, and termination notice window. Users can review the auto-tags, adjust them, or add additional custom tags of their choosing. This is a game changer for organizations looking to implement software quickly and make an immediate impact on their contract management process.
After documents are tagged, your contract repository becomes immediately searchable and reportable, something that used to take a significant amount of time. Not only does this speed up implementation, it allows your team to immediately improve contact oversight and share reports across an organization.
Watch this Video for an Introduction to AI Auto-Tagging.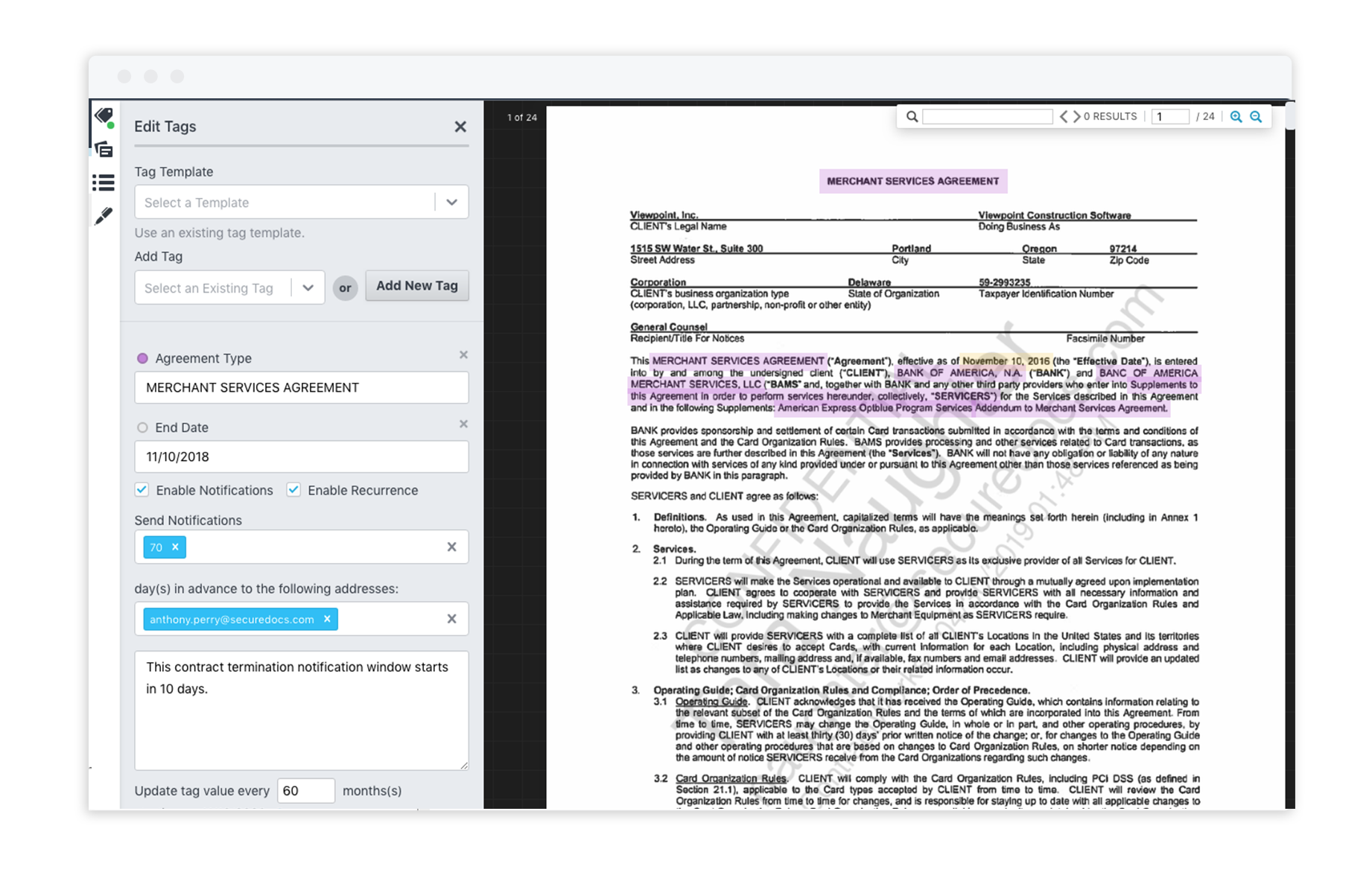 Quickly Search, Review, and Customize Contracts:
AI Auto-Tagging's additional features, Contract Outline, Snippet View, and Color Coding are designed to help legal teams search, review, and highlight key clauses or contract language quickly.
Have you ever searched through a multi-page contract to find a specific clause or provision? In most cases, this is a time consuming task. With our Contract Outline view, this is a thing of the past. ContractWorks' advanced OCR indexes an entire agreement to produce a linear outline of that contract. Simply click on any section of the outline to see a closer look at the contract's contents.
Want to review or check an auto-tag for accuracy? All auto-tagged contracts contain a Snippet View, which provides a quick, up-close glance of each auto-tag. Snippet View specifies each tag and displays what page in the document it can be found.
With our new Color Coding feature, you can now highlight important parts of your contract that you need to track. Choose from seven different colors to highlight a specific word, paragraph, or section of the contract. This option makes it easy to call out a specific area of a contract for further review, or to create an additional tag.
Watch this video to see these features in action.
Built In-House:
ContractWorks AI Auto-Tagging feature was built entirely in-house by our own software development team.
Why This Matters:
Because AI Auto-Tagging is a product of our engineering team, we have the flexibility to adapt and enhance this feature quickly, based on our customer's needs. We can also maintain the highest level of security standards because your data is not accessed or scanned by a third-party provider during the AI process. We pride ourselves on providing the highest level of security to our customers, and our AI Auto-Tagging feature is no exception.
Ready to Try Out AI Auto-Tagging?
We're excited about the launch of AI Auto-Tagging and can't wait for you to try it.
Click here to learn more about AI Auto-Tagging.
The ContractWorks customer success team is also on call, ready and willing to help, if you would like additional training or support on how to use AI Auto-Tagging.
We look forward to hearing your feedback about this new feature and invite you to stay tuned as we announce new updates with ContractWorks contract management software in the coming months.
Up Next
How to Solve Your Biggest Contract Approval Process Problem
Read article