Andy Silverman
•
Sep 15, 2020 9:08:00 AM
ContractWorks Lauded for Ease of Use, Customer Support
---
ContractWorks prides itself on providing innovative contract management software that is straightforward, easy to use, and backed by a knowledgeable team of product experts available around the clock to answer questions and provide support. Our team constantly works with customers and potential users to understand their biggest contract management challenges and needs to design a product that makes a difference in the way people work.
We are proud to share that ContractWorks has again been recognized by a number of trusted software review sites as a leader in the CLM software market, based on the ratings and reviews from people who use our software on a daily basis.
Below are some of the recent accolades ContractWorks has earned on review sites like G2, Crozdesk, and FeaturedCustomers.
G2
G2 releases quarterly reports that highlight leading software solutions across a variety of categories. In G2's Summer report, ContractWorks was recognized as a top contract lifecycle management solution based on software user reviews, including high marks in various categories like Easiest to Use, Easiest to Do Business With, Best Support, and Users Most Likely to Recommend.

Crozdesk
Crozdesk helps buyers find and compare thousands of software products across more than 280 different categories, including contract management software. In their recently released Top Contract Management Software Awards report, ContractWorks was named a Leader in the category. ContractWorks was also recognized as a Quality Choice based on "Crozscore", and received the Happiest Users badge given to providers with an average user rating of at least 4.5/5. According to Crozdesk, only about 10% of solutions ever receive this accolade.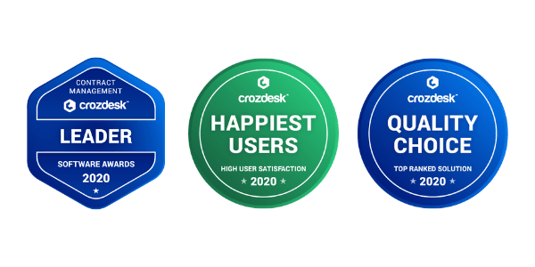 FeaturedCustomers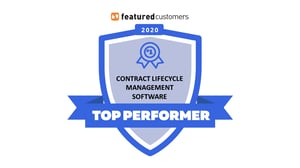 FeaturedCustomers is a customer reference platform for B2B business software and services, and helps potential buyers research and discover software through vendor validated customer reference content, including testimonials, success stories, and more. After all of the contract management solutions on their platform were reviewed and evaluated, less than 20 companies met the criteria to be included in the Fall 2020 Contract Lifecycle Management Software Customer Success Report, where ContractWorks was named a Top Performer.
"We realize how many contract management software solutions are out there, so we're excited to see that our approach of creating a product that is easy to learn and use resonates with our customers. Our customers also tell us that our support team consistently goes above and beyond to ensure all users have what they need to be successful, so it's great to see them recognized for their hard work."

- ContractWorks CEO Will Reynolds
If you're in the market for affordable, easy-to-use contract management software, schedule a demo today to see why users consistently score ContractWorks as one of the top solutions for organizing, signing, monitoring, and reporting on corporate agreements.
Up Next
5 Tips for Managing Healthcare Payer Contracts
Read article