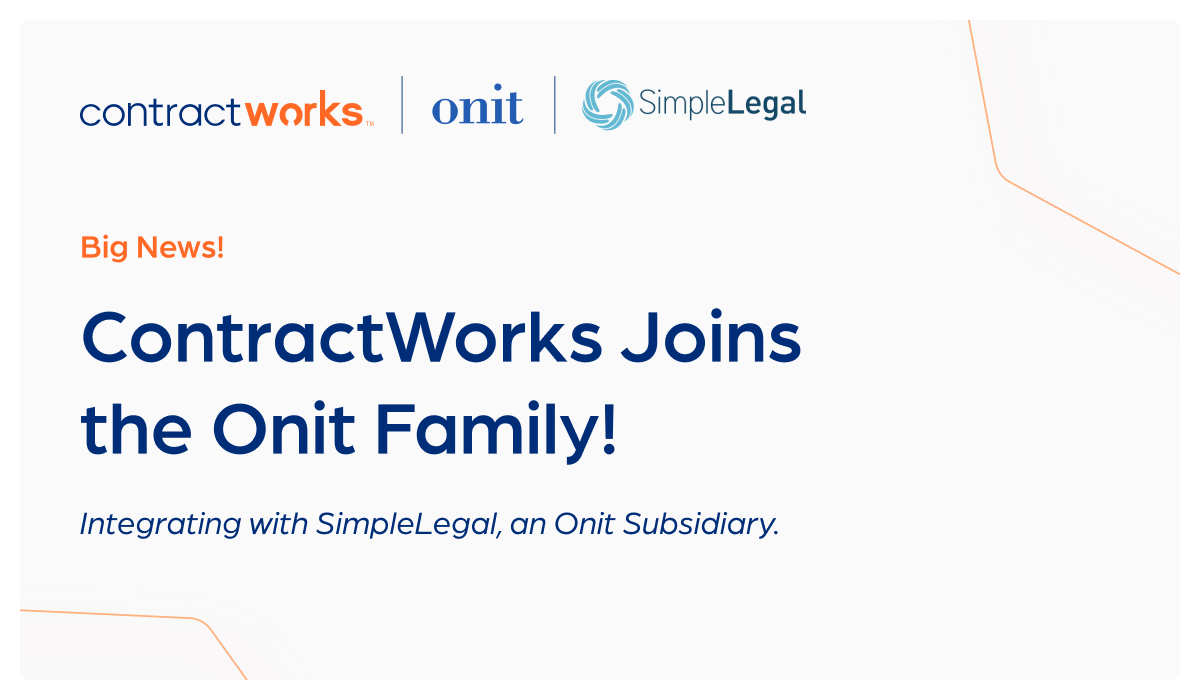 Will Reynolds
•
Jan 11, 2022 7:05:00 AM
ContractWorks Joins the Onit Family
---
Since day one at ContractWorks, we've been committed to creating contract management software that is easy to use, quick to return value, and backed by a team of knowledgeable, experienced product experts. We have seen significant growth over the last few years thanks to hard work from our team and continued support and meaningful feedback from our customers. When we were presented with an opportunity to join forces with another innovative company that shares a similar set of values and an unwavering commitment to customers, we knew it was too good to pass up.
We are excited to share that SecureDocs, the parent company of ContractWorks, has been acquired by Onit, the market leader in enterprise legal management, enterprise contract lifecycle management, and business process automation solutions. Through this acquisition, ContractWorks will integrate with Onit subsidiary SimpleLegal, a leading provider of spend, matter, and vendor management software.
Why is Onit acquiring SecureDocs?
By acquiring SecureDocs and its suite of products — including ContractWorks — Onit strengthens its position as a modern-day leading CLM provider, expands its market reach, and diversifies its product portfolio to include solutions for enterprises and mid-sized companies.

By integrating ContractWorks with SimpleLegal, we will be able to provide even greater value to all customers thanks to a complementary offering of products and services. By working together, we will empower businesses to harvest greater efficiencies and insight into legal operations while simplifying the overly manual and time-consuming processes associated with contract management.
What's changing for customers?
Your experience as a ContractWorks customer will not change. As far as using your ContractWorks account and working with your account manager, implementation manager, and our 24/7 support team, it's business as usual.
What's next?
We are incredibly excited about this significant step in our company history and are looking forward to this next chapter. We can't wait to start working with the talented teams at both Onit and SimpleLegal to continue creating intuitive software and providing value to both current and future customers around the world.

We'd also like to say thank you to all of our customers that have supported us along the way, whether you've been working with us for years or are just getting started. We've always been committed to providing exceptional support and service to back our award-winning CLM technology, and that certainly isn't going to change now. We can't wait for what's ahead and are thrilled to be working with our current staff, our new teammates, and our customers to continue innovating.

Learn more about the acquisition:

Up Next
7 Simple Strategies for Overcoming Poor Contract Management
Read article