What is online contract management? Who needs it? And how can it help you prepare for unexpected business challenges?
For a business to thrive, you must have tools and processes in place that enable your legal, finance, and business teams to meet goals and objectives efficiently, but also allow you to adapt to unforeseeable circumstances. When it comes to contract management, that means having a system that allows you to access corporate agreements at all times whether your team is in one office, working from home, or spread around the world.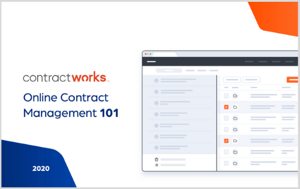 Download this Ebook to learn:
What online contract management is
How it can help you maintain business continuity when unexpected events occur
Why outdated, manual contract management processes, spreadsheets, and shared drives eventually stop working, prevent operational efficiency, and can impede your organization from reaching its maximum potential
How online contract management solutions can save you time, reduce risks, errors, and missed deadlines, and help you make more informed business decisions
Access your copy by completing the form on the right and clicking "Download Now."